Bed Bug Heat Treatment is the fast way to kill bed bugs.
Our bed bug heat treatment is the only way to kill all bed bugs and eggs in just one day with minimal or no chemical use. This is the most effective method as bed bugs are highly resistant to most chemical treatments and have a low tolerance for extreme heat.
The bed bug heat treatment is performed discreetly using specialized heating equipment and processes. This thermal bed bug extermination kills all stages of life in less than 8 hours, including adults, nymphs, and eggs.
Heat comes from external heaters equipped with safety devices such as thermostats an other sensors that allow us to safely heat the entire infested area(s) to exactly 150 degrees. We can heat one room, or an entire structure. The heat treatment will penetrate mattresses, furniture, carpets, walls, and ceiling, eliminating the infestation immediately.
The safety of your family, home, and belongings is our top priority. The heat treatment will not damage the structure, furniture, or personal items. Contact us to learn more about how items may be effected by
When we perform the bed bug heat treatment in all rooms we include up to an 18 month warranty for single family homes.
If for any reason live bed bugs are found during the warranty period, we will come out right away to get rid of them.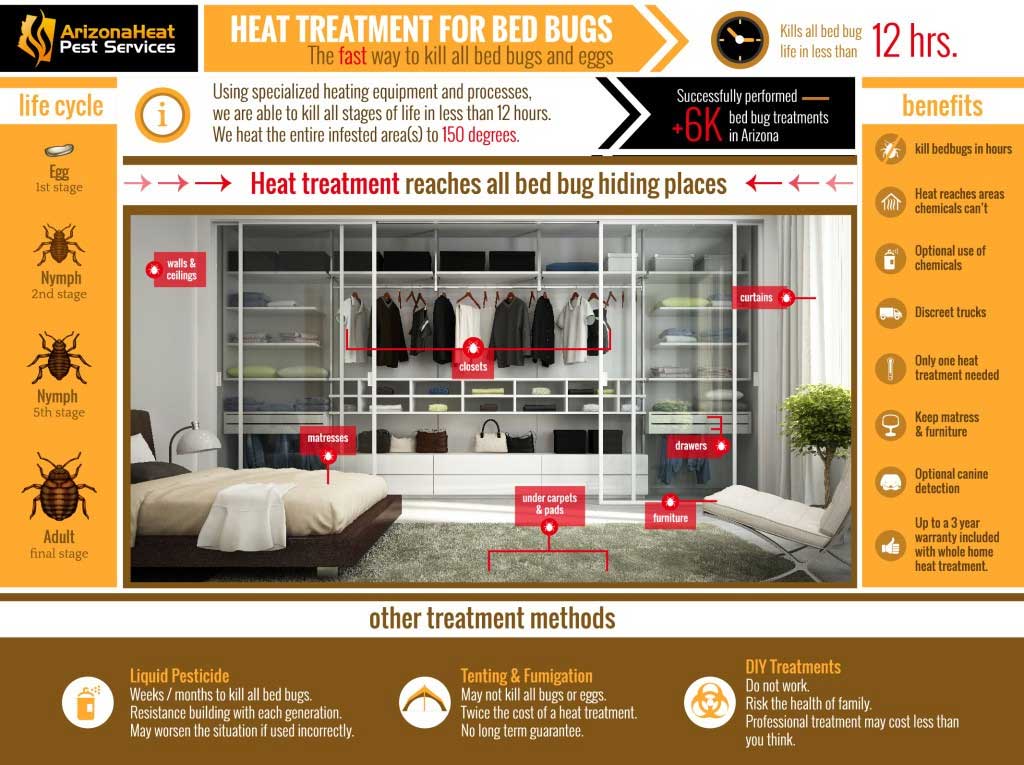 Benefits of the Bed Bug Heat Treatment
Kills all bed bugs and eggs in hours, not weeks.
Heat reaches areas that chemicals can not.
Discreet – Out trucks or equipment do not say "bed bugs" anywhere. No Bed Bug Pictures!
Only one heat treatment is needed. (95% of the time)
Keep your mattress and furniture if desired
Experienced Bed Bug Exterminator
We have successfully performed over 8000 bed bug heat treatments in Arizona. Our experience has led to in-depth knowledge about bed bugs that most companies do not possess. An inexperienced pest control company or unlicensed individual performing "heat treatments for bed bugs" are very likely to cause damage to structure and contents, without killing the bed bugs completely. Its not just the heat that kills the bugs, it it our process that ensures all bed bugs are killed and that no damage is caused.
Watch the video below to see our signature heat treatment in action:
"Heat Treatment is the only way to get rid of all bed bugs in one day. By heating the entire space to 150 degrees, we kill all stages of bed bug life from adult to eggs. The heat reaches areas that pesticide cannot. We can heat one room, or the entire structure – Quickly and Discreetly."